Gothic Style
The neo-Gothic architectural and decorative style was in its heyday between 1855 and 1875. It was a strong reaction to the Classical style of the Georgian and Regency eras. Whereas Classical architecture was driven by the desire for symmetry and balance, although the structure of the interior did not always match the form of the exterior, and decoration such as stucco finish was applied, the ideas in Gothic architecture were founded on the desire to reflect the construction on the outside; decoration should be intrinsic.
The style took as its inspiration the architecture of castles and churches, with their pointed gables, arched roof and ceilings, and stained glass.
Pugin, a key proponent of the Gothic revival, admired mediaeval architecture greatly. He argued that:
"there should be no features about a building which are not necessary for convenience, construction or propriety"
and that
"all ornament should consist of enrichment of the essential construction of a building."
Pugin's innovation was to begin architectural design with the rooms of a house, deciding on room sizes, proportions and layout first, and wrapping the exterior design around it. In the Georgian period, the design began with the exterior, and the rooms were fitted into the shell.
Early Victorian houses retained Regency-style detailing. They were light and elegant. By the 1840s however, they were seen as drab and the fashion swung to a contrasting style of coloured bricks and coloured and shaped roof tiles. The classical plan was altered to make houses more convenient.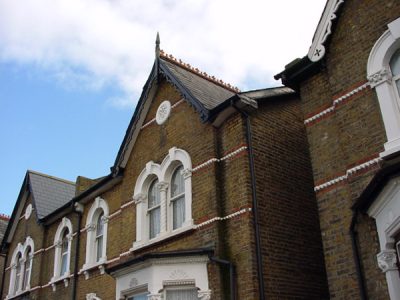 Glass, and floor and wall tiles, were coloured too. Bay windows and elaborate porches appeared. A feature was made of gables. The use of polychromatic brickwork began in the 1850s, reaching its peak in the 1860s and declining throughout the 1870s. This exuberance was matched inside. These trends were driven forward by the Great Exhibition of 1851 and by the repeal of the brick tax in 1850 which made it possible to use better quality and more elaborate bricks.
In the 1860s and 1870s, architects such as Richard Norman Shaw and William Morris evolved a 'reformed Gothic' style which distilled out the main design forms and applied them more boldly. These ideas led in turn to the Arts and Crafts movement and Queen Anne revival.
Read more...
Victorian Gothic House Style - An Architectural and Interior Design Sourcebook

Buy now
The Gothic revival was dead by the last decade of the 19th century.
'Gothic' is also referred to as 'High Victorian', 'Gothic Revival' and 'Neo Gothic'. However, 'Gothic' was used by the Victorians to describe to any non-Classical style. The Gothic revival was either of Early English, Decorated (late 13th century) or Perpendicular. The perpendicular style was common early in the revival. This style was only partially adopted in middle-class homes because it was seen as too ecclesiastical.
In this section, we take a more detailed look:
the external architecture
the interior plan
features including ceilings, doors, and floors
heating and lighting
decoration and furnishings