Removing Pointing
Tools
For removing pointing, you will need:
piece of wood shaped to fit the joints
medium weight hammer
scutch
plugging chisel
hacksaw blade for removing loose mortar from narrow joints
brush for removing loose mortar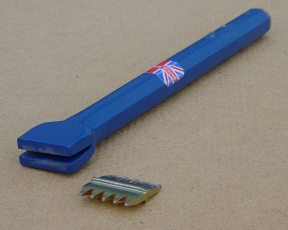 Materials
No materials are required for this task.
How to Do It
If the mortar is lime-based, use the wood stick to scratch out the mortar.
If you have to remove cement-based mortar, most experts advise against the use of an electric grinder. The grinder is quick and cheap but any operator error will cause a cut in the brickwork. One option is to use the grinder to make a cut in the centre of the mortar to weaken it for natural erosion to occur, or to make the use of a scutch easier. Another option is to use an electric drill with hammer action and a 6mm bit. Drill straight into the mortar keeping the holes about 6mm apart. Complete the task with a a scutch (or 'masons scutch holder').
If the mortar is cement-based and you want a purely manula process, use the scutch to weaken the mortar. Hit it sharply with a hammer along the centre line of the cement joint. Then carefully chop it out with a sharp plugging chisel.The manual process using a scutch or chisel can cope with variations in the courses more easily.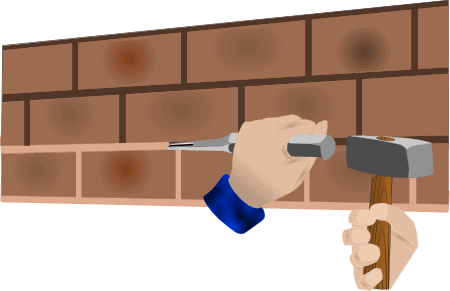 You can also use a hacksaw blade to remove loose pointing from narrow gaps.
The depth of the cut should be at least twice the width of the joint.
Use a brush to remove loose mortar or sand and finally flush them out with an ordinary garden hose.