Gothic Colour
Gothic colours in paints, fabrics and wallpapers were much richer than those of the Georgian and early Victorian periods.
Outside, after the death of Prince Albert in 1861, iron railings were painted black, with doors, window frames, barge boards and other woodwork in black or dark, rich colours. An alternative was a grained finish or bronze green.
Stucco was stone coloured.
From the 1850s through into the 1860s, the dominant colours in Gothic paints, wallpapers and fabrics were deep, rich colours such as strong bottle greens, dark blues, and winey reds. The reds included burgundy and claret, rose pinks, violets and mahogany colours. Other colours were yellows and ivories, and earth tones such as yellow ochre, terracotta and a grey-green.
Often different colours in similar shades were used together.
The darker colours were often highlighted with golds and bright yellows. These colours were used in the public areas of the house, in other words the hall, dining room, library and the other 'masculine' rooms.
Other rooms tended to be lighter, and more feminine and 'ladylike'. For example, the drawing room might have been in pinks or lavender. Bedrooms used colours such as pinks, sea-greens, light blues, greys and grassy greens.
Gothic woodwork was stained dark if it was not painted.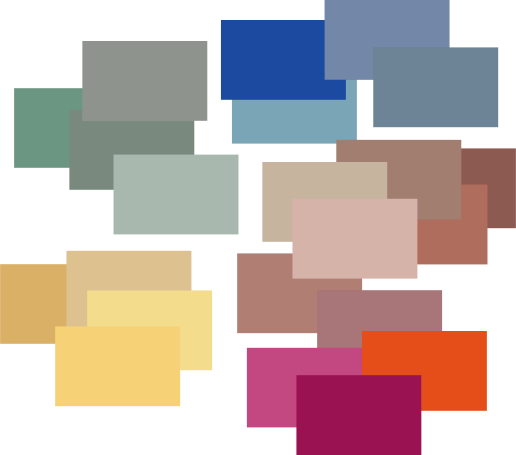 In this example of a grand house in the Gothic style, (Tyntesfield, now cared for by the National Trust), you can see a green wallpaper, dark floors and wood panelling. The balustrade is painted black with details in gold.