Porch
Most Victorian and Edwardian houses had a porch to surround the front door. This porch can be inside the main front wall of the building, or protrude. Protruding porches can have a simple roof on console brackets, or a roof supported on a framework of turned wood or fretwork, on brick walls, or a combination.
Sometimes this took the form of a simple tile or lead roof with wooden supports ('console') angled to meet the front of the house: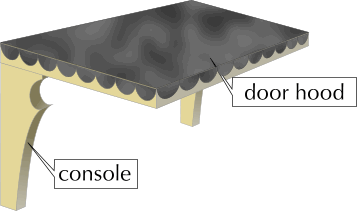 Other porches were more elaborate with stucco decoration, surrounding walls and turned wood screens. Builders could buy kits of parts.
Woodwork was generally painted white; this fashion came out of the Queen Anne style. Note that 'white' in houses of this time was an ivory white, not the modern bright white.
Examples are:
Where the porch is set into the house, and therefore has walls, these were generally tiled to dado height in Victorian and Edwardian houses.
Victorian tiling here was often in rather brash colour combinations, for example browns and reds and greens.
In Edwardian houses, the tiles were more subtle, in greens, creams, browns and blues, with a 'skirting' tile with ribs immediately above it, then relief or patterned tiles, and finally cornice and capping ribs. There were Aesthetic Movement, classical or Art Nouveau designs on the tiles of this period.