Furnishings
What furniture and fittings would you have found in the drawing room of Victorian and Edwardian houses; the furnishings?
The drawing room was the most prestigious room; it had to be light and cheerful, and demonstrate the wealth of the family.
The drawing room, or parlour, where visitors were entertained, contained leather arm chairs, a settee, sideboards, and a grandfather clock. There would be a patterned carpet, occasional tables, reading stands, footstools, bookcases, at least an upright piano, a bureau for writing, a needlework table and a cupboard for displaying china.
Victorian furniture was intended to be elegant but comfortable and was mainly made from dark, heavy woods like mahogany and oak. More wealthy homes made use of more expensive wood such as rosewood. Heavy upholstery was popular from the 1840s and buttoning was introduced in the following decade. Furniture was upholstered in the same fabric to create a consistent look. The 1870s saw increasing formality, with occasional tables and castors on chairs.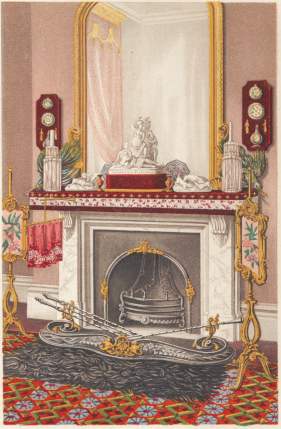 Edwardian furniture was lighter and exhibited design influences from many sources including Japan.
The fireplace had a fender, dogs, irons including a poker, shovel and tongs for picking up hot coals, a coal box (purdonium), or vase or cabinet, and a fire screen. When the fire was unlit, an ornamental fire-screen was placed across the front of the fireplace.
Above the fireplace was an ornamental mantelpiece cluttered with ornaments, candlesticks and plates. There was then an overmantel with a mirror. Mirrors were very expensive in the 18th century, so were framed like glass; this highlighted the wealth of the household. In the 1840s mirrors were cheaper because of tax and technological changes. By the end of the 19th century, they were cheap enough for a working class family.
Books such as Cassell's Popular Gardening, as well as novels, were popular.
There were also ornamental vases, wax flowers and stuffed birds under glass domes, pictures in gilded frames, fire-screens, and antimacassars.
The pictures on the walls were hung in large, heavy frames.
Satin and lace curtains hung at the windows. Many Victorians liked plants including ferns and aspidistras.
By the Edwardian period, ornaments remained popular and even 'designed' rooms included them.