Art Nouveau Wallpaper and Paint
Paint
Art Nouveau styles, between 1895 and 1910, brought olive and sage greens and mustard yellows for walls with stencilling and friezes in organic shapes and stylised birds and foliage.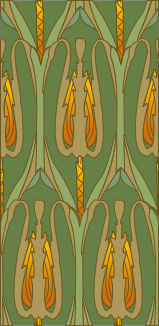 Wallpaper
Wallpapers patterns were of stylised flowers, foliage, allegorical scenes, landscapes, and seascapes. Special designs were available for each room, including the nursery.
Deep wallpaper friezes were common. These ranged from 50 to 120 cm in depth.
See the Gallery for other examples of Art Nouveau wallpaper.