Mantel Clock
The mantel clock is a spring-driven table clock intended for placing on the mantel over a fireplace.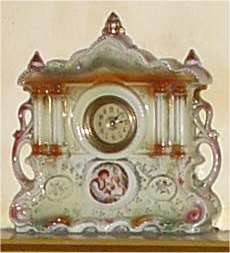 Technically, it is like a bracket clock but has no handle and is often low and wide. Another pattern was a balloon shape, with a large face, a pinched waist, and flaring out to the base. Generally they are more ornate than a bracket clock. This is true even for English ones; for example English mantel clocks from the mid-19th century may have significant gilding.
French Victorian mantel clocks often had garnitures; these are separate but related decorative pieces such as figurines or candlesticks placed either side of the clock. This fashion continued into the early 20th century.